Thanks Ian for your wonderful donation in support of the WTC fund.
---
[ Follow Ups ] [ Post Followup ] [ The Forum at Handcuffs.Org ] [ FAQ ]
---
Posted by J. Lauher on October 22, 2001 at 06:52:47:
In Reply to: WTC fund auction mini Stotz posted by Ian McColl on October 21, 2001 at 22:20:36:
Ian
Thanks very much for your wonderful donation. And thanks to Cannon's Great Escapes for hosting the
auction.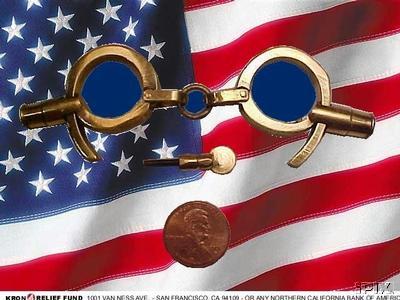 For those of you who don't know what we are talking about, Ian has made a minature reproduction of a Stotz handcuff in the form of a working thumbcuff. It is a one of a kind item he made as a donation to the World Trade Center Relief fund.
The item is being auctioned by Cannon's Great Escapes through Ebay's Auction for America. Please
have a look and bid. A one of a kind item like
this one should go for $1000 plus!
Joe


---
---