Re: THE IRON CLAW
---
[ Follow Ups ] [ Post Followup ] [ The Forum at Handcuffs.Org ] [ FAQ ]
---
Posted by J. Lauher on November 19, 2000 at 10:49:17:
In Reply to: THE IRON CLAW posted by KURT HUDGENS on November 19, 2000 at 10:11:02:
Kurt
There are two models of the Iron Claw manufactured
by Argus Mfg. of Chicago as well as some variations.
There are also more recent Jay-Pee versions of the
Iron Claw.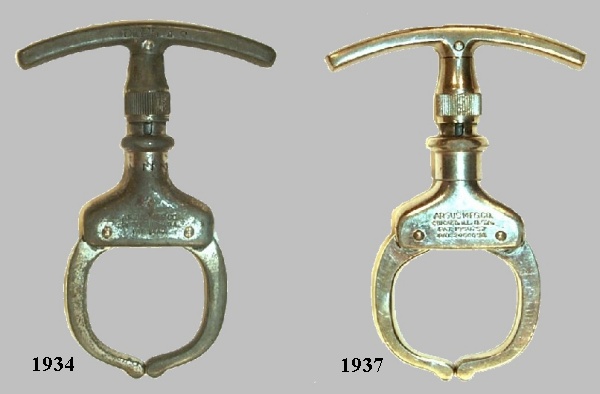 The first model was patented in 1934, the second
in 1937. The main difference is the round lock
mechanism that you raise to unlock the cuff. It
is flush with the barrel of the cuff in the
Model 1, but it has a raised overlapping design
in the Model 2.
The Model 1 is a somewhat rare cuff. The Model 2
is very common and there is usually one for sale
on ebay for $50-$60.
Joe
---
---